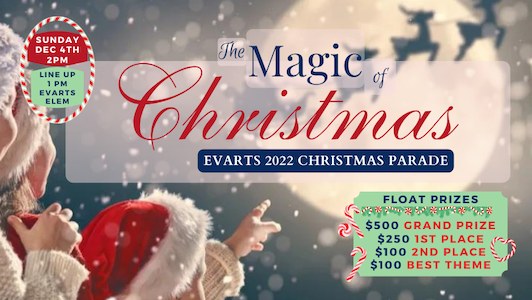 The Evarts Annual Christmas Parade will be December 4th, 2022 at 2:00 PM. Lineup begins at 1:00 PM at the Evarts Elementary School ending at Evarts High School. We are believing in the "Magic of Christmas" this year and hope you will as well. Great Prize money is up for grabs so bring on you best float game!
Grand Prize winner will float away with $500
First Place winner captures $250
Second Place will win $100
Best Theme gets $100
A great day for the kids to see Santa – we heard he will be in the parade! Come out and give him a big wave to let him know you've been your best this year!!!
In the event of rain the parade will be rescheduled to the following Sunday, December 11th – same time schedule. Let's hope and pray for a gorgeous day!!