Black Mountain Thunder is Kentucky's Newest, Highest, Fastest zipline.
With 11 Lines, 2.0 Miles and up to 500 feet high at 60 Miles Per Hour, you have to be sure to check out Kentucky's ziplines right here in Harlan County.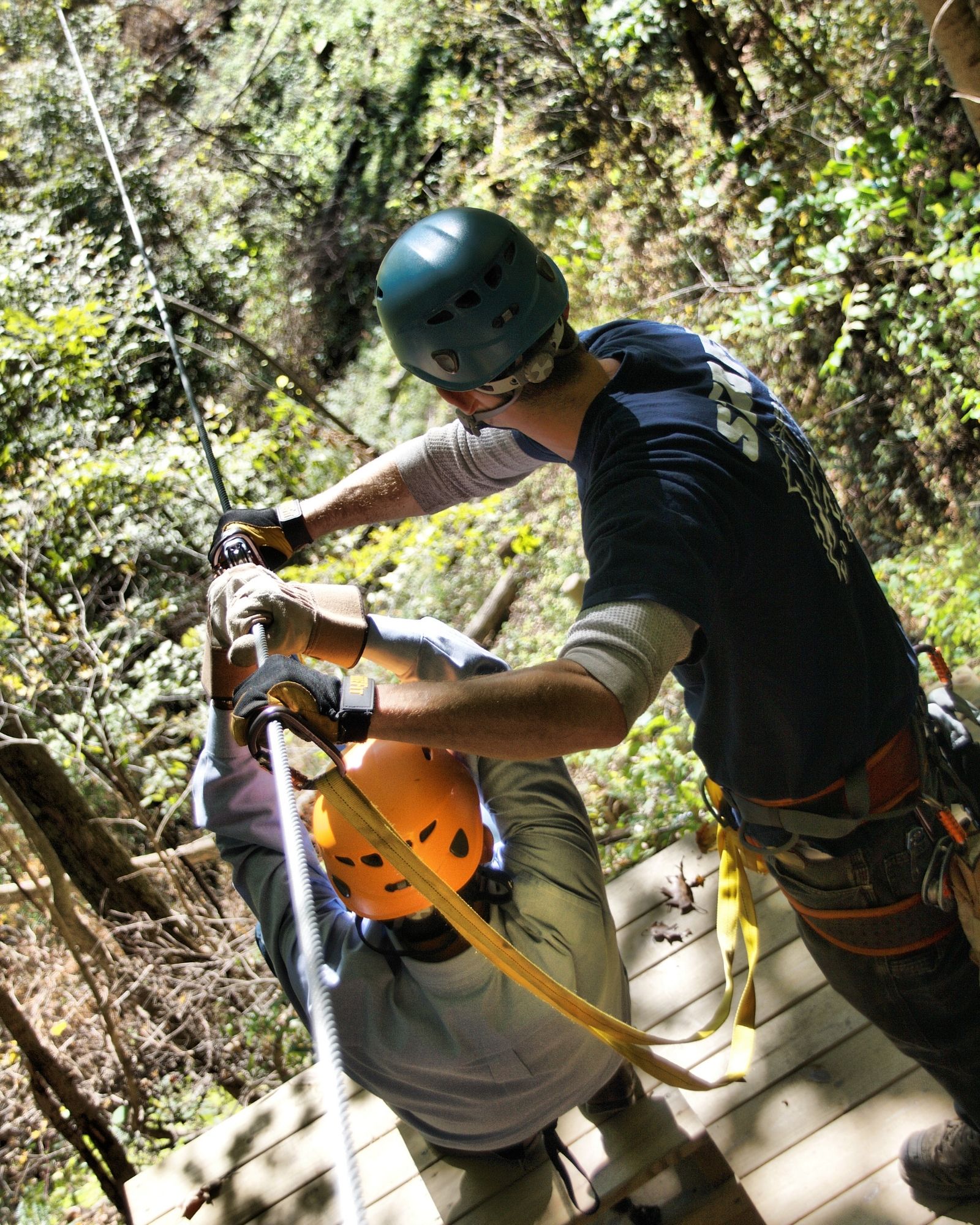 Black Mountain
Thunder Zip Line
---
Since opening in 2005, Black Mountain Off-Road
Experience breathtaking views of the majestic Appalachian mountains on our 2-hour canopy tour. Completed in August 2011, Black Mountain Thunder is the newest addition to Black Mountain Off-Road Adventure Area. Check in at the Evarts Trailhead Office & General Store before embarking on a two-hour, 2.0 mile canopy tour at speeds up to 60 mph and heights up to 500 feet off the ground. The zipline tour REQUIRES reservations so call today!
Reservations & Fees
We are presently only taking reservations by telephone. Please call (606) 837-3205.
Things to know:
Canopy tours operate every day from 9am to 6pm or dusk.
All cancellations incur a $10 service charge.
Tour groups can be as large as 10 people. You could be grouped with others if your party is smaller than 10 people.
You should arrive at the office 30 minutes before your tour begins.
For your safety, you will be required to sign our waiver and ride our training line before embarking on the canopy tour.
All tours are non-refundable once you are dropped off by our driver at line #1.
All fees include the full two-hour, 11 line canopy tour.
Adult – $79 per person
Children age 12 and under – $40 per person
Group of 10 or More – $60 per person
Black Mountain Off-Road Permit Holders(must show valid permit) – $60 per person
Frequently Asked Questions
What is a zipline?
A zipline is a suspended cable rigged to allow a harnessed rider to travel between two trees or platforms. All of our ziplines are built with tested, aircraft quality 1/2 inch steel cables.
What is a canopy tour?
A canopy tour is a zipline that has been installed in a forest and utilizes trees and natural elements combined with manmade structures to elevate and give comfortable standing areas in the trees. Canopy tours give riders a close contact with local terrain and give more adventure to their experience.
Who can take a tour?
Most people can qualify for a tour. Cooperative children under 65 pounds can be tandemed with a guide but not a parent. Additional guides may require a surcharge. Children weighing 65 pounds and over will be able to zip on their own. Tandem guide rides are also available on these, as long as the harness fits properly. Weight limits range from 60 to 250 pounds (200 for Women) (250 for Men).  Certain body types may make fitting and wearing a harness impossible. All participants should be of both average mobility and strength.

Note: If you are pregnant, have heart trouble, back problems, recent surgery, casts, or any other conditions that may prevent you from participating in a adventure sport we recommend not riding. This is an interactive sport that requires concentration as well as the ability to follow instructions. Please consider mental concerns when considering the tour. Both extreme fear of heights and panic attacks could be factors to consider. Be safe!
How long does a tour last?
Tour times vary depending on the number of participants in a tour. A maximum of ten people can participate in a tour. A full tour of 10 people will last approximately 2 hours. Smaller groups will take less time.
What should I wear?
You will need to wear close-toed shoes (such as tennis shoes). Wear comfortable clothing, but please avoid loose clothing (no scarves, etc.). Tie back long hair. Women should not wear skirts. We do not recommend short shorts as they are not comfortable with your harness. Dress for the weather forecasted. We operate in the rain so prepare accordingly. Please do not wear any dangling jewelry. Also, please remove all things from your pockets, such as cell phones and wallets. You don't want them falling out during the tour.
Are there restrooms on the tour?
Currently there are three port-o-johns located at the zipline building.
When should I arrive for my tour?
About 30 minutes ahead of your starting time.
Do you operate tours in the rain?
Yes but heavy rain may interrupt tours. Lightning or high winds will end a tour immediately. Transportation will remove you from the mountain as soon as possible. After the threat has passed tours tours can resume.
What do my guides do?
Your guides are for both safety and assistance. You will have 2 primary guides, one in front and one behind. They will fit you with gear, instruct you, and attach and detach you from cables. They watch after you to make your adventure safe.
Do you require reservations?
We require reservations. 10 participants and 2 guides are a full tour. To enable us to provide you with the best experience, we recommend reservations. If you do not have a reservation, then we will do our best to accommodate you on a space available basis.
How do we get up the mountain?
Our zipline transportation vehicle equipped with bench seats will drive you.
Is there much walking on the tour?
There is less than 200 feet of walking required during the tour.
Can I ride my ATV, dirtbike, etc. to the zipline?
Yes. All tours begin at Evarts Trailhead where you will be fitted with harnesses and given instruction. From this point, all vehicles should be left in the parking area as you will be transported to the first line. The last zipline will bring you back to the parking area.
Do zipline tours begin at Putney Trailhead / Harlan County Campground?
No. All visitors staying at the Putney Trailhead will need to travel to the Office & General Store at Evarts Trailhead to check in for their tour. (From Putney Trailhead, travel Trail 45 (or 46) to Middle Fork, turn left on Trail 20 and then right on Trail 10. This trip can take 30 to 45 minutes.